Guidelines
#O9C4COM | WORLD GROUPS COMMUNITY is the global community, forums, content and topics for international trade, human society, world economic. Registered members and guests can post any relevant messages: buy\sell, RFQs and commercial offers, engage in special and professional discussions, news, join alliances and groups. The board is a platform for global publics, group chats and conversations. Positive community reputation system and networking platform. Collaborating member's energy to create new global projects and models of human development.
1. CONTENT
1.1. Status Updates:
To Write a public message on your own feed... in the profile's Activity page, you need to: Go to profile > Edit Profile > Enable status updates? YES (enabled by default)
Activity feed is the place for member's own content stream: it can be commented and edited by the member itself.
1.2. Topic: 
+ Create (Create new content) > Topic
Topics are global and only relevant content is allowed (any content regarding #topictitle).
2. PREMIUM FEATURES AND LEADERS
2.1. Recommend:
Details and process for setup an account by taking advantage of Premium Feature:
1. Sign Up the community (Create my Account).
2. Fill the Profile.
3. Find the relevant Global Topic by Browse Forum Topics or Search the Community.
4. Reply to this topic...
5. Share this post to Administrator @O9C4.COM 
6. Administrator will setup the premium feature: Recommend (click on the built-in link to see more info on the feature).
3. INTERFACE TIPS
3.1. Emoji Short-codes:
While there are ways to insert emojis from both mobile keyboards and the editor, you can also start typing ":thumbs up:" to reveal the secret emoji menu. 

3.2. Image Attachments
Forum posts come alive with image attachments that add color and vibrancy. After you upload an image attachment to a forum post, double-click on the image attachment. You'll be presented with a secret menu with options to align and resize, so you can create stunning forum posts with images.

3.3. Profile Banners
Banners play a prominent part in multiple parts of the community, such as the Calendar, Profile, Clubs, and Blogs. But usually the page only displays a portion of the banner, and most of the banner is hidden. If you ever want to see the full banner in all of its glory, click near the top of the banner to auto-magically reveal everything!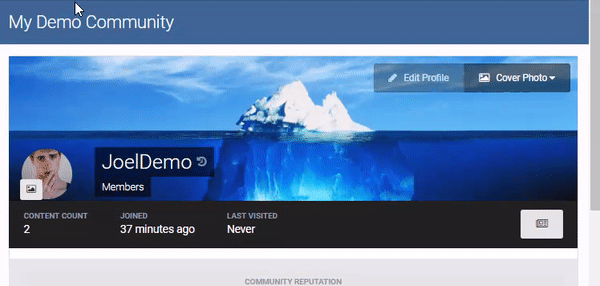 4. MEMBERS ACTIVITY
Sign Up
Edit Profile (Contact Methods, Profile Information, Profile Fields)
Write a public message on your own feed...
Browse relevant Topics and Submit reply or Follow this content
Start new topic
Join the Administrators Social Profiles
Use Community Reputation and Leaderboard premium features
5. PROFILE
5.1. Rank:
Members can set their own title after 5 content items.
Profile > Edit Profile > Basic Info > Member Title